Time Pieces is a website for a clock repair shop located in Kalamazoo, Michigan. The Owner, James Ollgaard, is a true craftsman. He's been repairing clocks for over 30 years. I went to his shop and took pictures of some of the clocks he repaired, some in the midst of repair, and him doing a repair on a mechanism. The site turned out very nice because Jim cares about his clients and what he does for them.
Hi Denise,
On Saturday, a customer came into the shop with his family heirloom clock. He said he got the courage to leave it at Time Pieces for needed repairs because the website convinced him that I was highly capable and concerned with caring for customer's clocks. The website put us ahead of any competition and gave him the confidence which overcame his general reluctance to leave it anywhere.
Thought you'd like to know.
Thanks,
Jim
James Ollgaard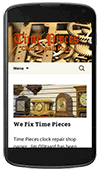 Visit the Website –>